Keep up to date with what Alan is doing. If you need to get in touch with him about any of these events, please email him at alangreigdance@gmail.com
Creative Dance workshop, held at Dance base (Edinburgh) Monday April 24th 12-2pm. £18 https://www.facebook.com/events/517453783865001/?acontext=%7B%22event_action_history%22%3A[%7B%22surface%22%3A%22home%22%7D%2C%7B%22mechanism%22%3A%22your_upcoming_events_unit%22%2C%22surface%22%3A%22bookmark%22%7D]%2C%22ref_notif_type%22%3Anull%7D
I am thrilled and delighted to have been chosen for a creative residency in Dublin, Ireland March 2023 to continue to develop my solo work. https://www.danceireland.ie/whats-on/events/international-residency-alan-greig/
I have the enormous privilege to mentor multi-talented Steven Martin – Dance Artist for the next few weeks on his new show 'My life in pieces' A show that seamlessly blends, live music, text and beautiful dancing.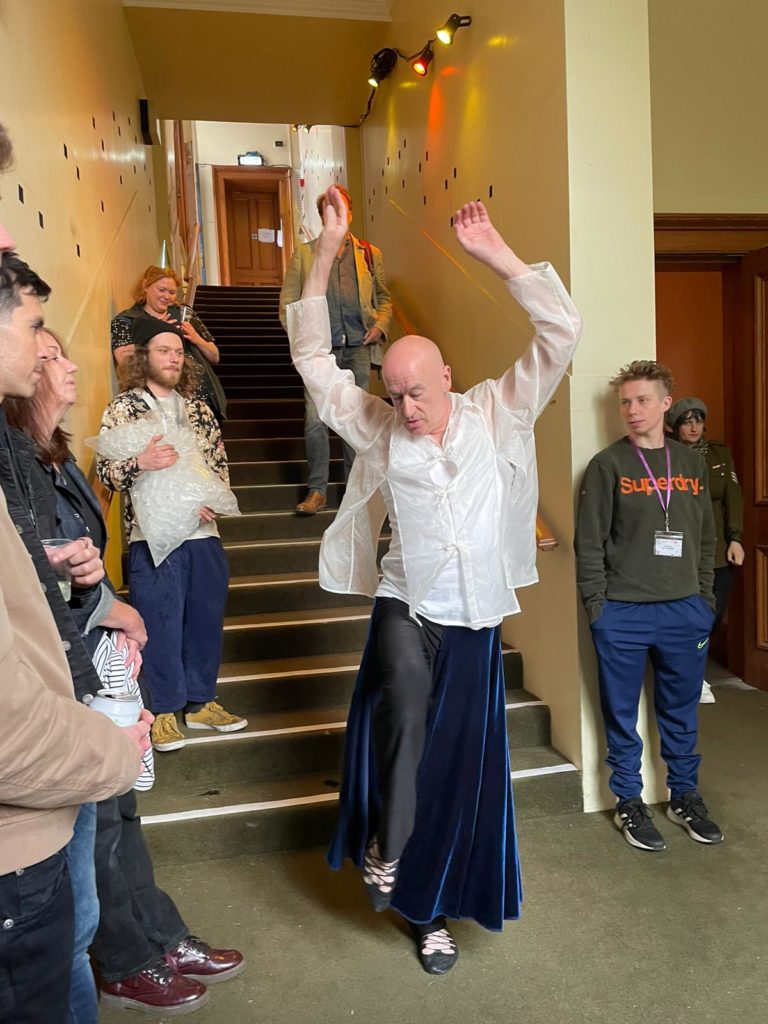 Hidden Door Update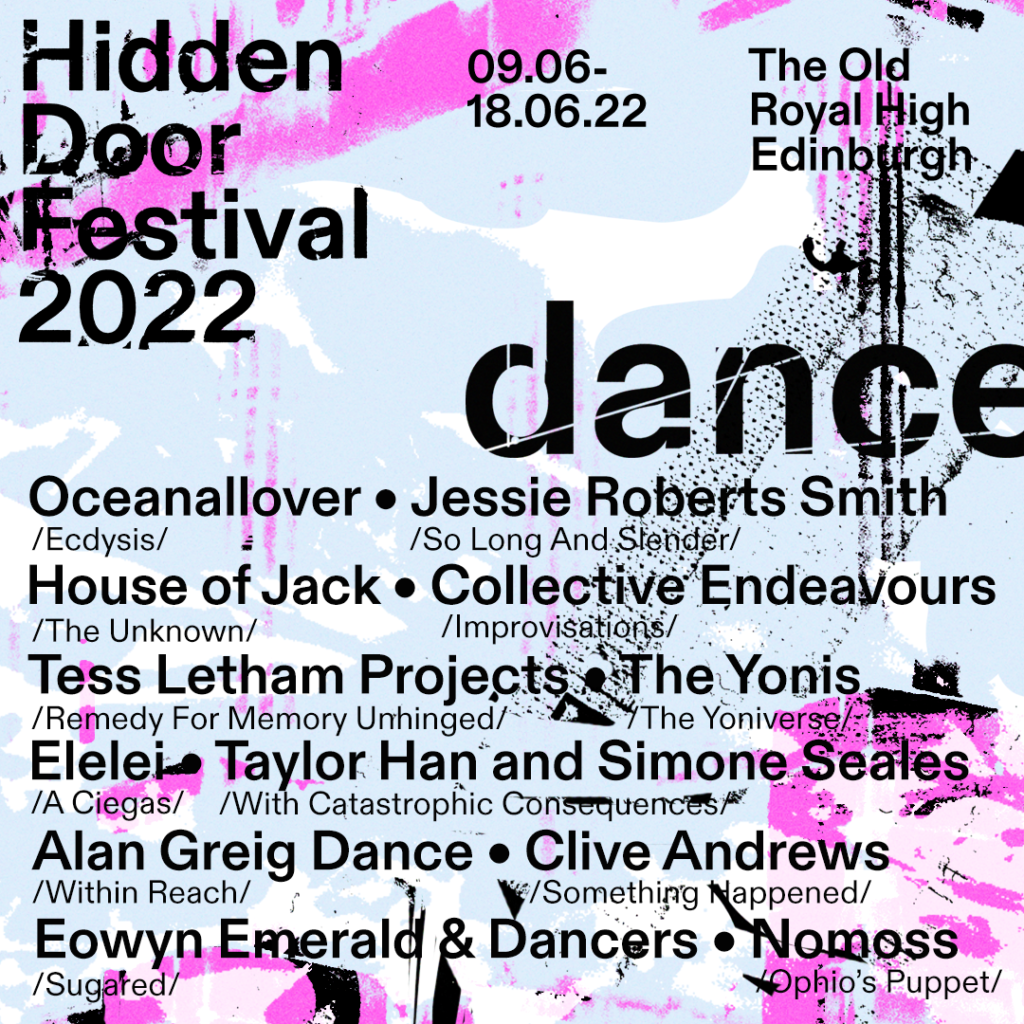 My performance times have changed. Within Reach will be shown at 9.30 to 10pm June 16th (£5 off any ticket, code HDT16-5OFF) 8.00 to 8.30 pm June 17th (£5 off any ticket, code HDF17-5OFF) and 6.30 to 7pm June 18th. My audience is limited to ten people and involves walking to different locations. I am super excited to be part of this amazing festival.
June 2022
I'm very excited to be part of the @HiddenDoorFestival – taking over the old Royal High in Edinburgh for 10 days of live music, visual art, dance, theatre and spoken word.My solo 'within reach' will be performed 16th/17th/18th June 2022. Check out the programme: https://hiddendoorarts.org/event/Tickets: https://www.citizenticket.co.uk/events/hidden-door/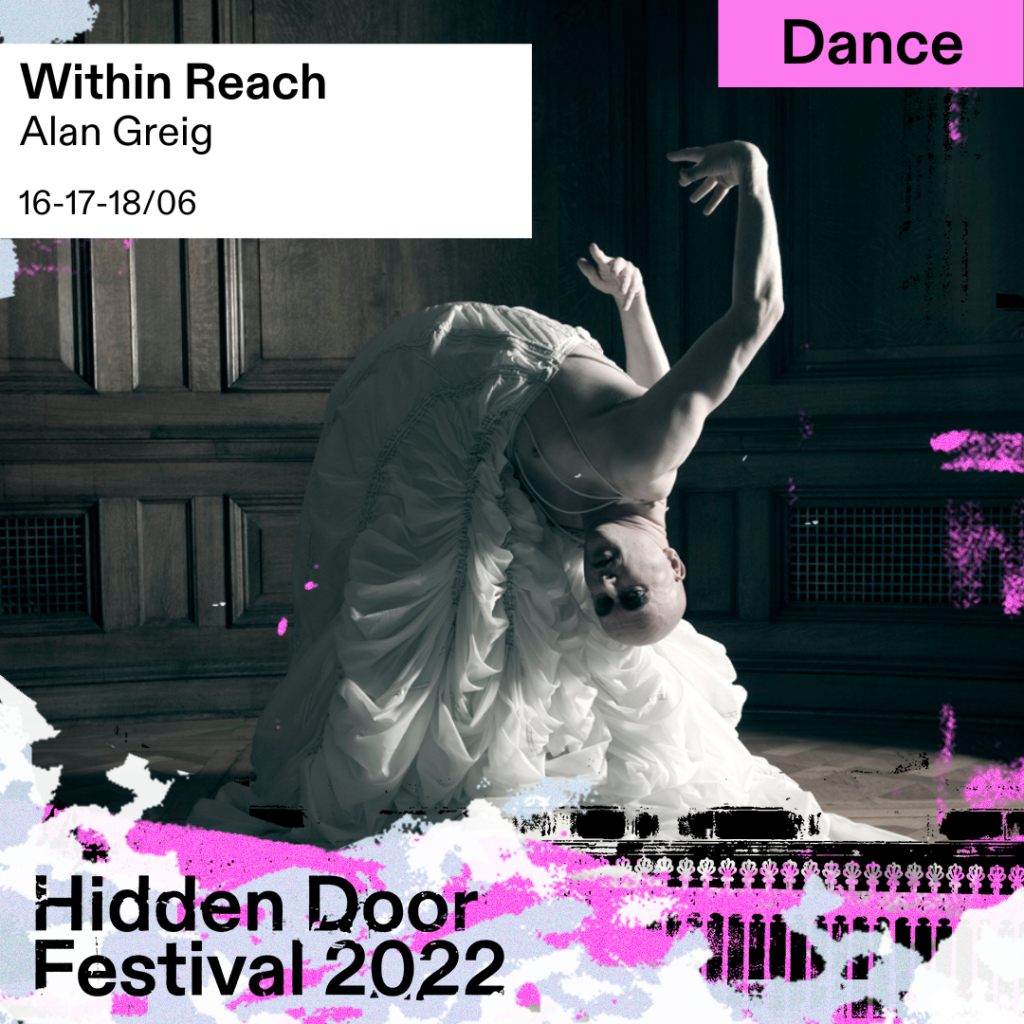 Sunday March 6th 2022
I will be running a creative dance workshop at Dance Base studios from 1 to 4 pm. The workshop will explore improvisation and choreography and is suitable for all levels of movement, theatre or dance experience.
Minimum age 16 and no upper age limit. Bring your imagination, bare feet and wear loose comfortable clothing. Please book through me in advance (£25) for payment details. Please feel free to share this post with anyone you think may be interested. Due to Covid restrictions places are limited to a maximum 18 students
Friday July 16th 2021
The dancers and I have been working for the last six weeks to co-create a zoom performance 'Mary-Jane & Sebastian' We are asking the audience to arrive for 6.25 and show starts at 6.35 pm. We are unable to allow latecomers (we are filming the dance) Music by Peggy lee and Tom Murray. The performance lasts around 7 mins and we would welcome feedback and questions afterwards.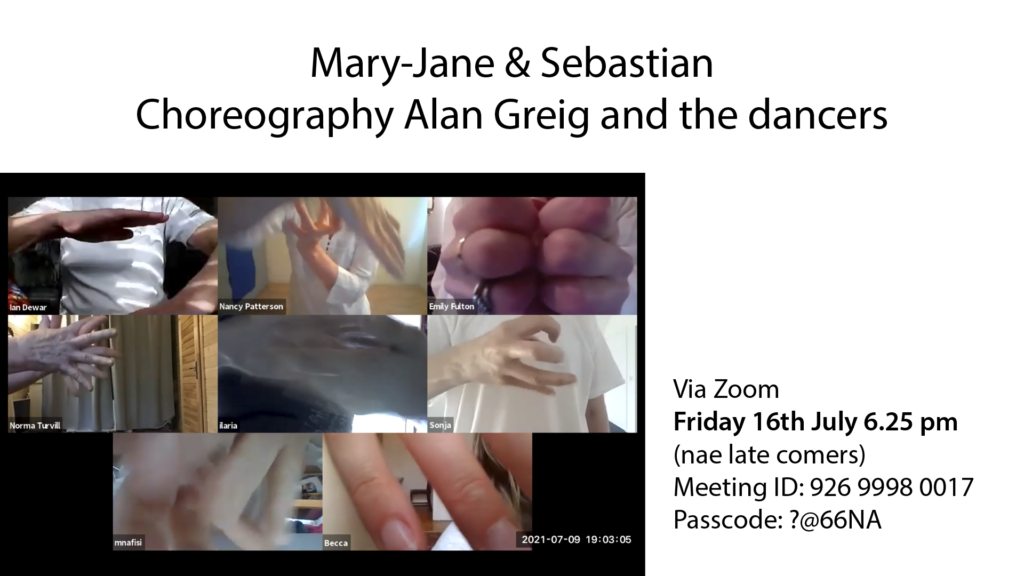 I have been working with 14 dancers for the last five weeks to co-create 'Jigsaw analogy' Join us this Friday in a Zoom meeting on the 14th of May at 6.35pm.PLEASE NOTE: have your sound on mute and camera off when you join. The performance will last about 10min, if you wish you can unmute at the end of the performance.
https://rcs-ac-uk.zoom.us/j/96310116656…
Password @66NA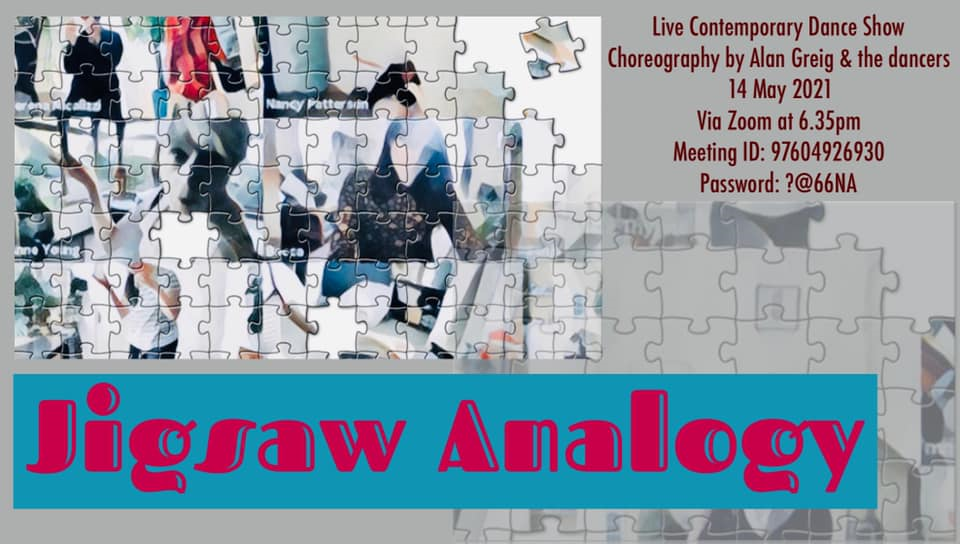 Alan is running a six week virtual choreography research group. Dates are April 9th to May 14th. Cost £30. 6 to 7 pm. The theme of this bloc is collage, working with a sound score of text, ambient sounds and music to create dance, movement and theatre. Improver/Intermediate level. You will learn choreographed phrases and create your own moves through improvisation and movement scores. On the last week there will be an opportunity to share the work live with family and friends. To register, email Alan and he will send you his bank account details and a few days before class begins he will send a zoom link and password.
"Personally I find our Friday night class a sanctuary where we can escape and restore. Alan is the most engaging and fun teacher to work with" (class participant)