What's on
Keep up to date with what Alan is doing. If you need to get in touch with him about any of these events, please email him at alangreigdance@gmail.com
Mary-Jane & Sebastian June 11th to July 16th 2021
Mary-Jane won't say thank you or please. Sebastian looks up at a sky filled with 'savage devouring birds' Do you like weird, off beat music? Do you enjoy learning choreography and having the chance to create your own moves through improvisation? If you answered 'yes' then join us on Friday 11th of June for a six week block of one hour creative dance classes.
Music by Peggy Lee and Glasgow's Tom Murray. We let the weirdness in! 6 to 7 pm on Zoom. June 11th to July 16th (£30) Five classes and on the sixth we will invite friends and family to a live performance sharing on Zoom. Improver/Intermediate level. Email me and I will send you my bank account payment details and then a zoom link/password to join next week.
I have been working with 14 dancers for the last five weeks to co-create 'Jigsaw analogy' Join us this Friday in a Zoom meeting on the 14th of May at 6.35pm.PLEASE NOTE: have your sound on mute and camera off when you join. The performance will last about 10min, if you wish you can unmute at the end of the performance.
https://rcs-ac-uk.zoom.us/j/96310116656…
Password @66NA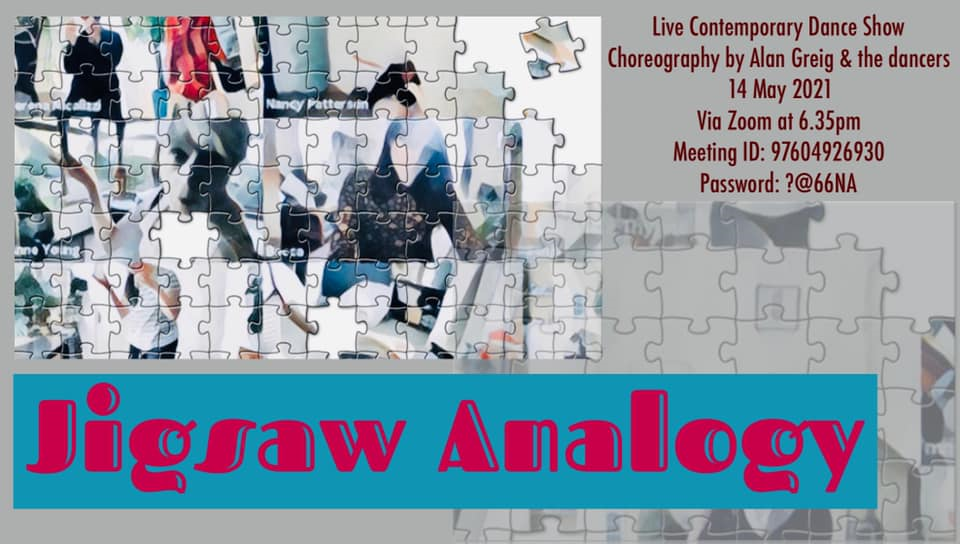 Alan is running a six week virtual choreography research group. Dates are April 9th to May 14th. Cost £30. 6 to 7 pm. The theme of this bloc is collage, working with a sound score of text, ambient sounds and music to create dance, movement and theatre. Improver/Intermediate level. You will learn choreographed phrases and create your own moves through improvisation and movement scores. On the last week there will be an opportunity to share the work live with family and friends. To register, email Alan and he will send you his bank account details and a few days before class begins he will send a zoom link and password.
"Personally I find our Friday night class a sanctuary where we can escape and restore. Alan is the most engaging and fun teacher to work with" (class participant)